Weekly Sunday Sermon
September 18, 2011

Rev. Wayne T. Ouellette Sr. OASM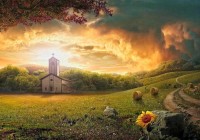 A sermon is an oration by a prophet or member of the clergy. Sermons address a Biblical, theological, religious, or moral topic, usually expounding on a type of belief, law or behavior within both past and present contexts. Elements of preaching include exposition, exhortation and practical application.
In Christianity, a sermon (also known as a homily within some churches) is often delivered in a place of worship, most of which have a pulpit or ambo, an elevated architectural feature. The word "sermon" comes from a Middle English word which was derived from an Old French term, which in turn came from the Latin word sermō; ("discourse") Although, links have been made between the Latin word serere, which means 'to join together', so this leaves the modern Latin definition open to interpretation . The word can mean "conversation", which could mean that early sermons were delivered in the form of question and answer, and that only later did it come to mean a monologue. In contrast to this, is the examples from the Bible, where sermons are speeches without interlocution: Moses' sermon in Deuteronomy 1-33 [1]; Jesus' sermon on the mount in Matthew 5-7 [2]; Peter's sermon after Pentecost in Acts 2:14-40.
In modern language, the word "sermon" can also be used pejoratively in secular terms to describe a lengthy or tedious speech delivered with great passion, by any person, to an uninterested audience. A sermonette is a short sermon (usually associated with television broadcasting, as stations would present a sermonette before signing off for the night).
In Christianity, the most famous sermon is the Sermon on the Mount by Jesus of Nazareth. This sermon was probably preached around 30 A.D. and is recounted in the Gospel of Matthew (5:1–7:29, including introductory and concluding material) as being delivered on a mount on the north end of the Sea of Galilee, near Capernaum. The Sermon on the Mount lays out many of the core principles of Christianity. Another rendition of much of the same material may be found in the "Sermon on the Plain" in the Gospel of Luke (6:17–49, including introductory material).
During the later history of Christianity, several figures became known for their sermons or a particularly significant sermon. Preachers of the early church include Peter (see especially Acts 2:14b–36), Stephen (see Acts 7:1b–53), Tertullian, John Chrysostom, Gregory Nazianzus. Sermons in this era were used to spread Christianity across Europe and Asia Minor. During the Middle Ages, sermons inspired the beginnings of new religious orders (e.g., Saint Dominic and Francis of Assisi). Pope Urban II began the First Crusade in November 1095 at the Council of Clermont, France, when he exhorted French knights to retake the Holy Land in Palestine.
In the Roman Catholic tradition, the art of preaching has developed through the theological field of homiletics.
Many sermons have been written down, collected and published. Such sermons include John Wesley's 53 Standard Sermons, John Chrysostom's Homily on the Resurrection (preached every Easter in Orthodox churches) and Gregory Nazianzus' homily "On the Theophany, or Birthday of Christ" (preached every Christmas in Orthodox churches). Martin Luther began a tradition of publishing sermons (Hauspostille) on the Sunday lessons for the edification of readers. This tradition was continued by Chemnitz and Arndt and others into the following centuries — for example CH Spurgeon's stenographed sermons, The Metropolitan Tabernacle Pulpit.[1]