Advanced Bible Study Course
September 17, 2011

Rev. Wayne T. Ouellette Sr. OASM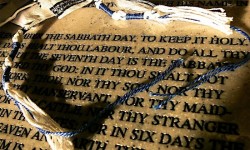 We now move onto some Advanced Bible Studies. Here there are important subjects that a Christian needs to know in order to grow spiritually and to be able to answer to his faith. Every leader must be well trained, with a sound Biblical foundation.
This is what Hole 2 and the other Holes on the Layman's School of Training were designed to accomplish. Every untrained leader you put into an office of ministry will cost you dearly in time to come. You can take that to the bank. It's the Law of the Medes and the Persians. Here they will also learn what it means to be a responsible and committed disciple of Jesus.
Most importantly Hole 2 ends off with a motivational gift test, which enables each member to be slotted into their right place of ministry in the Body of Christ, directing them to be trained for their specific gifting and calling, where they'll be most fulfilled and fruitful.